2018
Gladbrook Corn Carnival
June 28 - July 1

"Get Your Kicks @ Corn Carnival 96"

Check out some of our Gladbrook heritage photos by clicking here or by using the Heritage Photo tag to the left.
IMPORTANT NOTICE:

The 2018 Gladbrook Corn Carnival events WILL ALL HAPPEN as advertised starting on Thursday with the Collector's Fair and the Kiddies Parade events in the evening.
Our contracted carnival ride company, Superior Equipment, chose NOT to show up as well as NOT give us any notification. Many verification calls were made to Shawn Exum, the owner, with no returned calls. On Tuesday this week after much searching & contacts to other locations that Superior Equipment contracted with, we learned that he up and decided to retire his business and didn't bother to let anyone know of this decision in any of his cities. We have been scrambling the past 24 hours to come up with something for the kids on main street during Corn Carnival.
We will have at least five pieces of inflatable amusement activities for kids starting Thursday evening. These will all be on main street in a fenced in area for kids to enjoy.
Thursday evening admission into the area will be FREE for all kids from 7 to 10pm. Friday, June 29th, the area will be open from 7 to 11pm with a wristband. Wristbands will be $20 each. Advanced ride coupons from Superior Equipment can be turned in for a wristband if you so choose or can be turned into the booth for a refund.
Saturday sessions will run from 1 to 5pm and again from 6 to 10pm. Each session will require a $20 wristband.
Any advanced ride coupons purchased may be redeemed for wristbands or refunds will be given during Corn Carnival. They may also be refunded next week at the City Clerks office.
We need volunteers to help facilitate all of this. Now is the time to step up to help out. Please call Jackie Stephenson at City Hall.
The Corn Carnival Board of Directors regrets this happened and wants you to know that we are doing all we can to make sure that our 96th Corn Carnival is successful. We hope this gives everyone the correct version of what took place in the last 24 hours.
The Gladbrook Corn Carnival is an annual event celebrated in Gladbrook, Iowa. It is well known for its Friday evening Grand Parade. There is Free entertainment every night. Many families and friends gather during the Corn Carnival celebration, and Gladbrook/G-R High School class reunions are often held concurrently with Corn Carnival festivities.
This celebration, hosted by the Gladbrook Community, organized by the Gladbrook Corn Carnival Corporation, is made possible by the endless cooperative effort of the residents and businesses in and around Gladbrook that make this community their home. The proceeds of the celebration are funneled back into the community by funding projects aimed at improving quality of life for those in and around Gladbrook.
The Corn Carnival Corporation wishes to Thank all who donate time, money and resources that contribute to the yearly success of our small town celebration!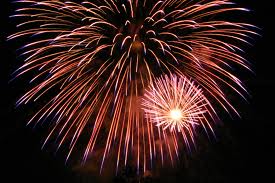 Luethje Auto Fireworks Celebration
Saturday Night Fireworks
10:00 pm
Sponsored by

Luethje Auto Sales & Service

Southeast corner of town. Please park at the Veterans Memorial Park or Luethje Truck Display Area.